Why choose a JASO hoist?
Here are 10 reasons to choose our hoists. A list developed by our engineering team who works day after day to offer the best machinery for the most demanding industrial environments.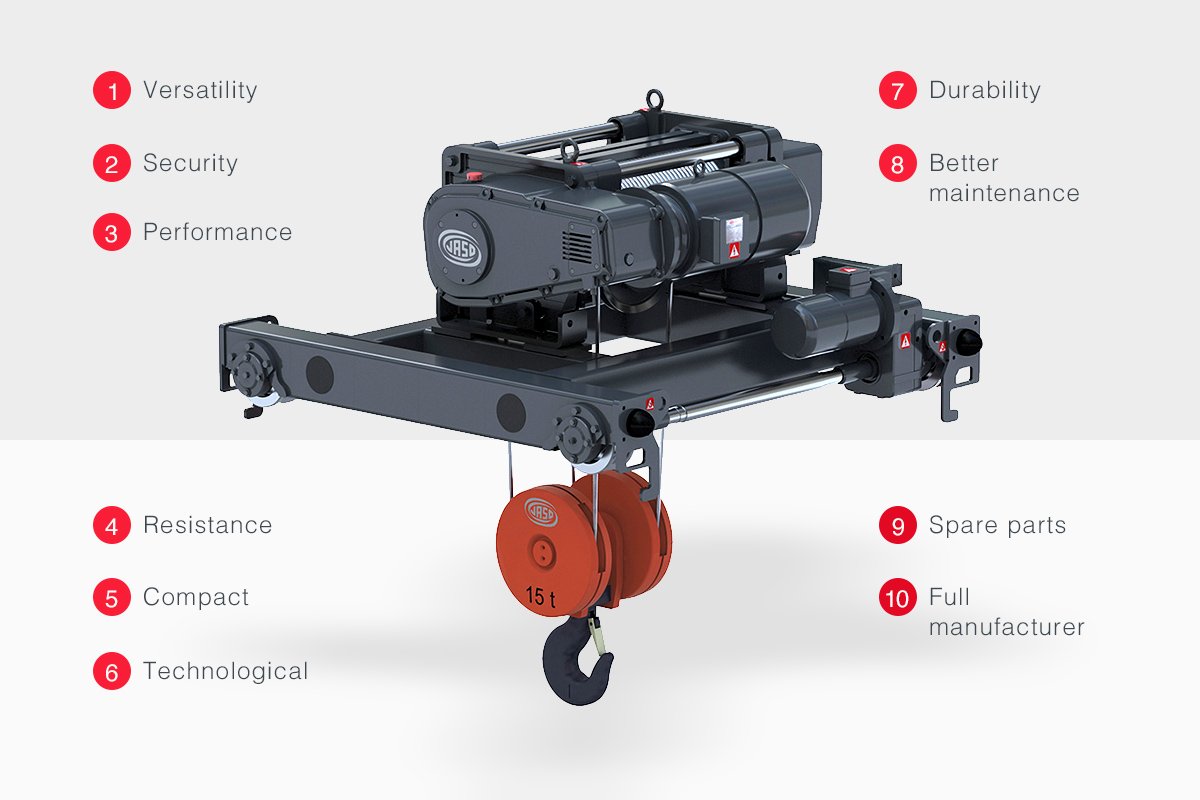 Versatility: We offer different types of configurations up to M7 group of the European FEM norms and 100 T, with adjustable speeds for lifting and movement from 0 to nominal speed, enabling a smoother and quieter start. In addition, we have an electrical multi-tension selection, whose models can be operated in different countries without the need for adaptation.
Security: Our hoist cranes have a load limiter by means of a frecuency inverter, a parachute system (anti-tip device) and continuous lifting and movement brakes to ensure a perfect stop. In versions with a standard built-in frequency converter, our hoist cranes provide greater accuracy, safety and control thanks to their closed loop vector control.  
Performance: We install the encoder outside the motor, making the drive reading more reliable and easier to maintain.
Resistance: With its 220 kg / cm resistance factor, our lifting cable offers greater safety and a longer life.
Compact: JASO hoist cranes, in their V version with standard variable lift frequency converter, are more compact, because they are 36% smaller in length, and do not protrude from the trolley frame.
Technological: Our engineers have developed a crane monitoring system, through the load limiter that allows information to be obtained on the number of manoeuvers, Safe Operating Period, overloads and other parameters that enable constant and preventive crane maintenance.
Durability: We have been able to extend the useful life of both the axles and the bearings by perfectly adjusting the wheels of the front ends and aligning them with CNC machining. Also, our motors last longer because at 1,500 RPM, less reductions occur.
Better maintenance: We have placed the control cabinet outside the engine and the trolley, and have incorporated the junction box in the hoist crane itself with an IP-55 protection to facilitate maintenance tasks.
Spare parts: JASO has developed a wide range of spare parts at competitive prices. Our technical support team provides a quick response to ensure delivery in the shortest possible time.
Full manufacturer: We have designed and manufactured at our facilities all JASO hoist crane components for the last 50 years, guaranteeing greater safety and quality, as all our machines comply with all the international regulations in force.